As featured on Urban Turf
The windows on the current building, which Adjaye described as "exclamation points", will be replicated and increased in number, with ten each on the north and south faces. The east side will be similar to the current design in its symmetry while still distinguishable from the west side. There will also be a series of horizontal window strips along the penthouse level with hydraulic brick shutters that provide privacy and alter the exterior aesthetic of the building. Prior iterations alternated between more referential and preservationist designs and a more modernist style.
In landscape architect Laurie Olin's latest design of the elevated triangular park, each corner will be an access point with stairs and pathways; there will also be an elevator for accessibility at the 29th Street entrance. A pedestrian bridge will be constructed at the most narrow point of where the Canal meets the creek.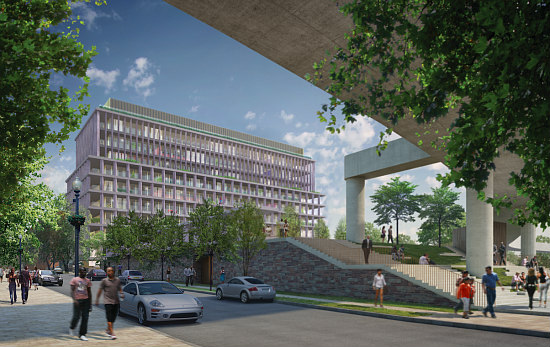 A previous design for the West Heating Plant.
Citing Adjaye's other architectural work in the District such as the Hillcrest Library and the National Museum of African-American History and Culture, those in attendance on Thursday night responded positively to the latest design, seeing it as a fitting transformation of a key site in the neighborhood.
The plant's status as a contributing structure (and not a landmark) in a historic district, as well as inconsistent support from the community and reviewing agencies, many of whom appreciated the architecture of the building as-is, led to a series of conversations with the Office of Planning and Historic Preservation Office.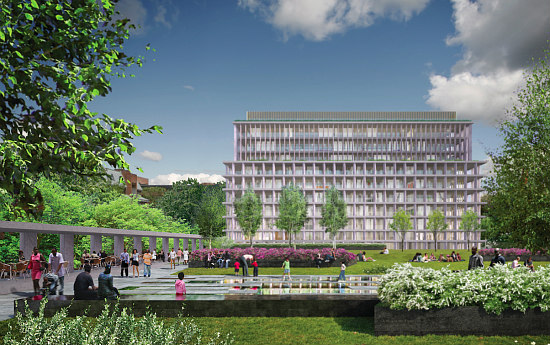 Rendering of last year's design option as seen from originally-designed public park.
The plan will now move forward into the historic preservation review phase, starting with a presentation to the ANC on April 3rd. The design will then be reviewed by the Old Georgetown Board on April 6th and, later this year, the Mayor's agent. Afterward, the proposal will go before the zoning boards to seek a planned-unit development; more intensive environmental and traffic studies will also be done at this time.
Overall, the development will likely take at least four years: one year in historic preservation review, one year in zoning review, and 24 months of construction.
http://www.goodmanrealtors.com/wp-content/uploads/2017/04/Rock-Creek-20170306.jpg
364
550
Andrew Goodman
http://www.goodmanrealtors.com/wp-content/uploads/2016/01/GOODMAN-REALTORS®.jpg
Andrew Goodman
2017-04-03 16:09:12
2017-04-03 16:09:12
A New Look Unveiled For Georgetown West Heating Plant Residential Project