This July, the Zoning Commission set down the application for a planned-unit development on the 1.79-acre site at 1501 Harry Thomas Way NE (map) that would deliver 328 apartments, including duplexes and live-work units, across an 8-story building. Now, the Foulger-Pratt-led development team behind the Eckington Park project is offering more details on how they will revitalize the spaces adjacent to the site.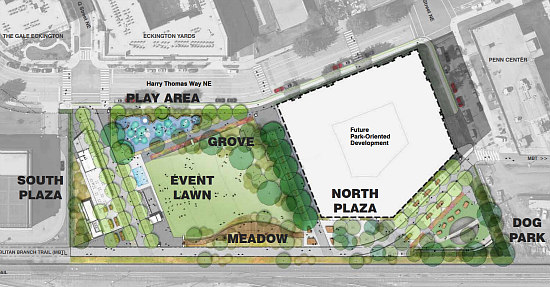 A site plan of the park
In support of the pre-existing space to the south, the applicant is donating $350,000 to the NoMa Parks Foundation (NPF) for improvements. The funds will largely go toward construction of an amphitheater and food kiosks at what will be called the South Plaza of the park. The utility, stage and cafe pavillions constructed will have double skins of slatted wood over a reflective polycarbonate.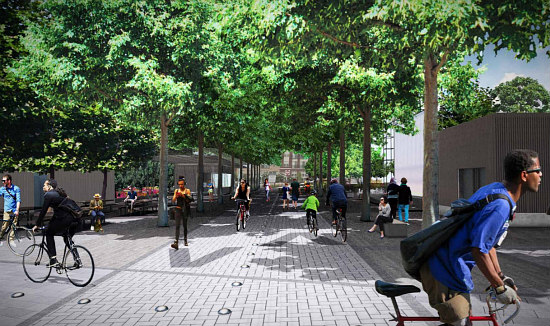 A rendering approaching the South Plaza from the Metropolitan Branch Trail
This end of the park will also have a large event lawn and a playground fronting Harry Thomas Way, separated from the sidewalk by screen planting. The playground will have separate sections for children 2+, 4+ and 5+ years of age; the former two sections will abut a path and rain garden, with the rain garden phasing out across from the widest play area for children 5+ years old.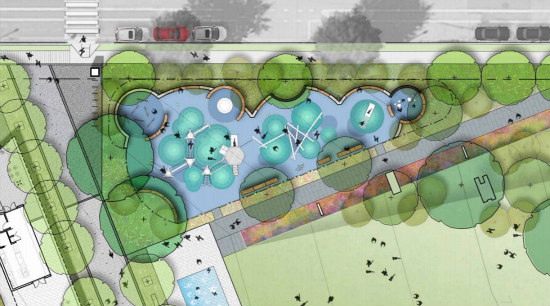 A site plan for the playground area
The applicant will also deed 20,050 square feet of land on the eastern portion of the site to NPF, allowing for the extension of the park eastward to create a single park tentatively referred to as "NoMa Green"; the official name will be decided through a public process. A dog park with turf, a play mound and agility course will occupy this smaller space, abutted by a rain garden.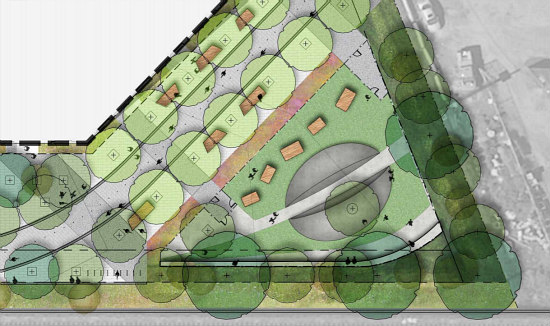 A site plan for the dog park area
This portion of the site will also realize a realignment of the Metropolitan Branch Trail, replacing a hard right angle along the path with a "gentle curve" and creating shaded seating areas on either side. Thirty short-term bicycle spaces will also be delivered near the Trail.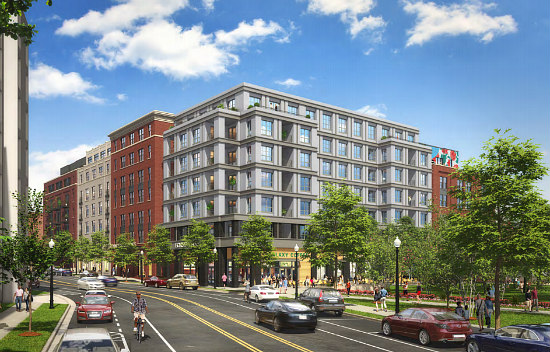 New rendering of the proposed development viewed from southwest
The development will also include public art installations on the ground floor of the residential building facing the Trail and a mural by No Kings Collective on the southeast corner of the roof deck. Torti Gallas Urban is the architect for the project. The Zoning Commission is scheduled to consider the application again on December 12th.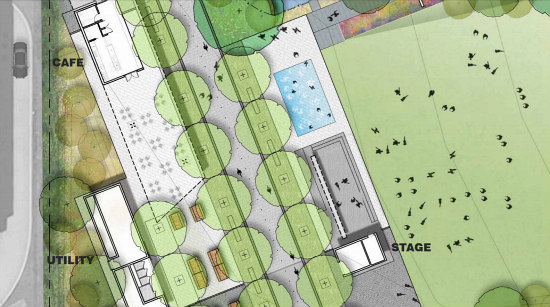 A site plan for the South Lawn
Correction: An earlier version of this article referred to an "East Park" and a "South Park"; the correct terms for those areas are respectively the North Lawn and South Lawn. The resulting site will have one park rather than two. Additionally, the realigned Trail will not curve north of R Street; rather, the realignment better connects to the Trail north of R Street.
http://www.goodmanrealtors.com/wp-content/uploads/2017/12/Screen-Shot-2017-12-01-at-9.41.24-AM.png
317
591
Meg McParland
http://www.goodmanrealtors.com/wp-content/uploads/2016/01/GOODMAN-REALTORS®.jpg
Meg McParland
2017-12-01 14:41:57
2017-12-01 14:41:57
Amphitheater, Food Kiosks, a Dog Run: The Details of the New Eckington Parks