The redevelopment of the former Fannie Mae headquarters received two approvals last week that will help it become a reality.
Last month, the Roadside Development-led team behind the reimagining of the soon-to-be-former Fannie Mae headquarters at 3900 Wisconsin Avenue NW (map) presented conceptual plans for the ten-acre site to the community. This past Thursday, the Historic Preservation Review Board (HPRB) approved two applications related to the site: the historic designation of the primary building and its surrounding lot, and approval of the conceptual design for the planned redevelopment.
On the matter of granting historic landmark designation to the Equitable Life building, a notion which some in the planning community believe would set a poor precedent, the HPRB ruled in favor of the designation while requesting that the historic boundary to the north be extended by 10 feet to include the open space abutting the lot.
As for the conceptual redevelopment of the site, the boardmembers were generally full of praise for the overall vision and the presentation, although naturally they had a few recommendations.
The Board asked the development team to consider pulling the triangular residential building fronting Wisconsin Avenue further back from the street and to ensure that the building off South Lane doesn't "encroach" on McLean Gardens. Some members also expressed a preference that the existing horseshoe-shaped driveway be retained in order to maintain a symmetrical front lawn.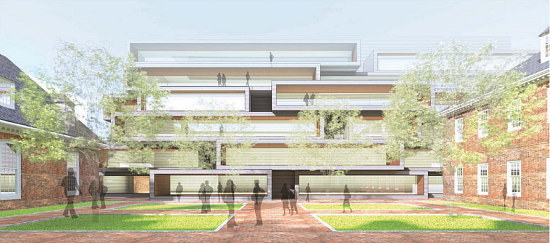 A rendering of Building 3 as seen from the north courtyard
While there was appreciation for the design of Building 3, there was also concern that the design hadn't been fully resolved as far as how the building would read from the exterior and how someone would experience it on the interior. Boardmember Joseph Taylor recommended that the team consider a consistent color story among the buildings in order to give them more latitude when it came to materials and design.
Ultimately, the Board unanimously approved the conceptual plans with their comments included for the record and asked the developers to continue refining the plans with Historic Preservation Office staff.
The Office of Planning will now consider a large tract review application for the development, which is by-right. Construction could begin as early as the last quarter of 2018, with rolling delivery of buildings and a final completion date in the third quarter of 2022.
The completed development is envisioned as having a total of nine buildings, including the repurposed Equitable Life building, while activating the lawn at the front of the site. There will be up to 700 residential units, the city's first Wegman's, a hotel, offices, retail, cultural space, a boutique movie theater, and up to 1,400 below-grade parking spaces. Shalom Baranes is the architect of the development.
http://www.goodmanrealtors.com/wp-content/uploads/2017/11/Screen-Shot-2017-11-20-at-1.09.40-PM.png
371
592
Meg McParland
http://www.goodmanrealtors.com/wp-content/uploads/2016/01/GOODMAN-REALTORS®.jpg
Meg McParland
2017-11-20 18:10:22
2017-11-20 18:10:22
Fannie Mae Redevelopment Receives Two Important Approvals