Washington has a new co-working player — and this one's from out of town.
The Yard, a New York-based company with 11 other locations, opens its first D.C. site Thursday, at the Hine School development on Capitol Hill. The co-working provider expanded into Philadelphia and Boston earlier this year, making the District its third market outside of its headquarter city.
The Yard: Eastern Market, which lives at 700 Pennsylvania Ave. SE, comes to a pocket of D.C. surrounded by retail and restaurants, residential and office buildings, all steps to the Eastern Market Metro station. That was part of the draw for this location, said Morris Levy, The Yard's CEO and co-founder. He wanted to break into this region — an area becoming more crowded with similar offerings from competitors like Regus, Carr Workplaces, WeWork, MakeOffices and others — because of its draw as a strong player in the Northeast corridor.
The Yard had worked with New York-based commercial real estate agency Savills Studley for a few years to find the right location, broker Nicole Millertold us last year. The Stanton-EastBanc project at 700 Penn became a top contender partly because it lives in an established neighborhood, and is surrounded by other new office projects, as the WBJ's Dan Sernovitz reported in September 2016.
The Yard occupies 31,480 square feet in the mixed-use project's 150,000-square-foot office building, with workspaces, lounge areas, conference rooms and stocked kitchens. A few types of memberships are available: the most basic co-working option for $350 per month; dedicated desks for $495 per month; and private offices of various sizes starting at $650 per month.
Amenities also include access to the shared rooftop, the ability to reserve the building's board rooms on a separate floor, and discounts to local restaurants, fitness centers and other businesses.
---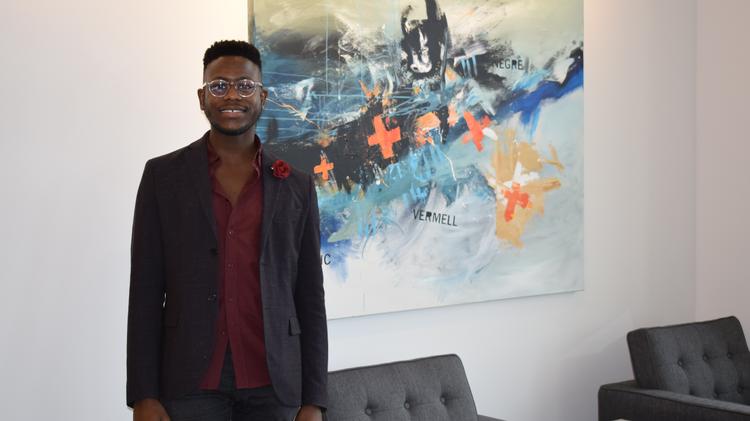 ---
Windows overlook the neighborhood on both sides of the floor, but the offices have predominantly solid walls, "a big physical differentiator" from the all-glass wall model of many co-working spaces, Levy said. The goal with this design? To make focus the priority.
"It's not a cool club. It's a place where people accomplish what they need to do," Levy said.
Still, the space doesn't lack personality. Multi-colored carpets coat common-area floors, and pops of bright magenta and turquoise cover select walls, juxtaposing the mostly white scheme. Those white walls aren't exactly naked, either: they're the backdrop for The Yard's art program.
As with all of the company's locations, the space will feature art exhibits that rotate quarterly, the first of which comprises works by artists Thierry Guillemin and Deborah Coburn, and curated by the D.C.-based artist-owned nonprofit Studio Gallery. The program grew from an effort at The Yard's Brooklyn location to give artists an opportunity to show and sell their work, Levy said.
He started the company in 2011 with fellow Brooklyn native Richard Beyda,after looking for a quiet place to work outside of his house — his six kids made that difficult. He'd encountered WeWork's early iteration, Green Desk, and thought, "I know I could do this better," he said. The company opened its first location within six months.
Thousands of entrepreneurs have built or run their businesses out of The Yard, and that list includes recognizable names like Uber, Blue Apron and Lyft, among others.
"When I look back at it, it excites me that all of this happened here, and the reason that it happens here is because people are capable when there are no distractions," Levy said.
The company secured a $15 million credit facility from Israel Discount Bank of New York, which comes in addition to its $30 million in funding raised to date. It's still growing, with two more sites in development in New York, and plans to open more in D.C.
"I already have my eyes on a couple sites," Levy said, though he couldn't get into specifics.
The Yard makes its debut Wednesday as the host site for Startupalooza, a pitch competition for entrepreneurs to present their startups to venture capitalists. It's official opening party Thursday will include food, drinks and a performance by band Blue Heaven.
---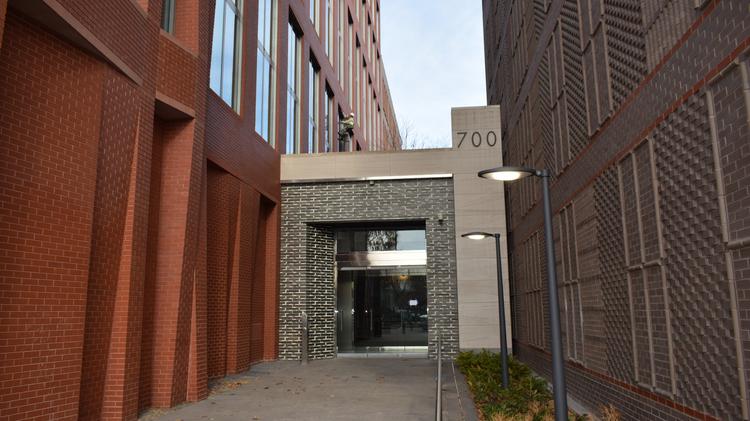 http://www.goodmanrealtors.com/wp-content/uploads/2017/12/Screen-Shot-2017-12-07-at-10.42.25-AM.png
397
587
Meg McParland
http://www.goodmanrealtors.com/wp-content/uploads/2016/01/GOODMAN-REALTORS®.jpg
Meg McParland
2017-12-07 15:42:55
2017-12-07 15:42:55
Inside The Yard's first co-working space in D.C.