With balmy summer weather just around the corner, we're sure you can't wait to soak up as much time as possible in your beautiful backyard.
Oh wait—you're an apartment or condo dweller, you say? Instead of a lush backyard, all you have is a tiny balcony. Fear not! Even if your concrete slab of outdoor space isn't looking very inviting right now, there's no need to stay inside and be miserable. There's still plenty of time to turn your little balcony into an urban oasis.
"Maximizing your tiny balcony space can be easy with the right combination of fun furniture pieces and decorative, but functional objects," says Lauren Visco, an interior designer at DesignBridge in Chicago.
Ready to take your small balcony to the next level? Follow these expert-approved design tips.
1. Make the flooring beautiful

Photo by Michael Muraz Photography
The worst part about apartment balconies may be the cold concrete flooring. Unless you've had a tetanus shot recently, you don't want to step outside with bare feet.
But that can easily be remedied by covering over it, notes Erica Leigh Reiner, owner of E. Leigh Designs in Los Angeles.
"Cover ugly, outdated, or cracked patio flooring with easy-install wood or plastic patio tiles," she recommends.
For example, try Casa Pura Patio Pavers ($59). "This totally upgrades the quality, color, and style of the space using just the amount you need, without breaking the bank."
Once you have the flooring down, Visco says, finish the job with a beautiful outdoor-friendly rug such as the West Elm Ikat Mix Indoor/Outdoor Rug(starting at $299).
2. Forgo the bistro table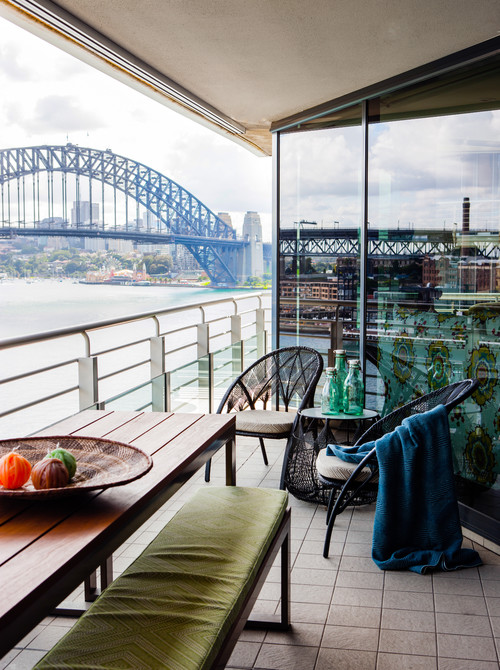 Photo by Marylou Sobel Interior Design
Your balcony is small and narrow, so you might think a small, round bistro table for two is the way to go, right?
Not so fast!
Go for a rectangular table instead, such as the Wayfair Salvatore Gray Patio Table ($310). If you push it up against the rail edge of the balcony, you can fit two chairs on the sides, plus a narrow bench on the other. Boom—instant dinner party for four!
If you can't make a rectangular table fit, Reiner recommends a hanging table like the Pottery Barn Juliet Balcony Table Rail ($149) that won't take up valuable floor or visual space.
3. Go global
Friends giving you FOMO on Instagram with proof of their travels to exotic places? If you can't beat 'em, join 'em! Use your small outdoor spot to create your own permanent vacation, recommends Anna Brockway, co-founder and CMO of Charish in San Francisco.
"Weaving global textiles into a small outdoor space can transport you from your apartment balcony to anywhere in the world," she says.
To start, try adding a few small items such as kilim cushions, she suggests. One example: the Wayfair East Urban Home Tangerine Kilim Outdoor Pillow ($39).
"Then finish up by hanging a few glass lanterns overhead to achieve a Turkish and Moroccan look on a budget," she adds.
4. Take it tropical
If the beach is your scene, set up a corner of a small balcony to be a tropical oasis. You'll need an Acapulco chair or two such as the Design Tree Home Acapulco Indoor-Outdoor Lounge Chair ($190) and decorative palm accents such as the RSH Decor Tommy Bahama Swaying Palms Outdoor Throw Pillow ($50).
Add in a few low-maintenance palm planters, and be sure to serve yourself a rum punch. You'll feel like you're in the Caribbean, even if you haven't gone anywhere.
5. Hang your greens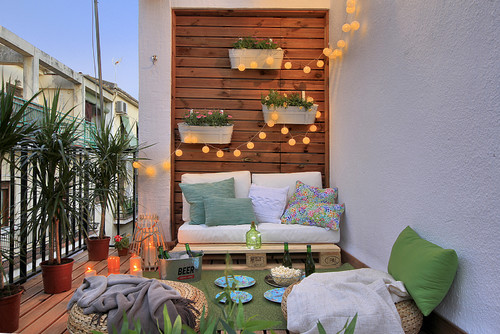 Photo by Decora y vende
On a small balcony, think vertically—especially when it comes to plants, Reiner stresses.
"Get those pots off the floor, and save that space to use," she says. "I cannot recommend using vertical space enough."
Hang potted plants from the ceiling with a sturdy hook, or in wall-mounted planters.
Bottom line: "The more plants, the better," Reiner says.
6. Provide privacy, please

Photo by Leslie Glazier @ Properties
Apartment balconies often are exposed to the world, which can be the opposite of Zen. You don't have to live your life in public, though, Visco says.
If you have metal railing on your balcony, pick up a privacy screen for as little as $26 on Amazon. If you've got glass, you can cover it with an exterior-grade window film, in a partly opaque or frosted finish.
"Using these films will still allow light to filter through, but give you more privacy," Visco says.
Have a landlord who wouldn't be keen on your alterations? You can use an easy-to-remove film with a static cling design, which you can find at most home improvement stores or on Amazon for less than $25.
https://www.goodmanrealtors.com/wp-content/uploads/2018/04/258bbbd567eae86074a13a886c3a0a65w-c0xd-w685_h860_q80.jpg
385
685
Casey Kunkel
https://www.goodmanrealtors.com/wp-content/uploads/2016/01/GOODMAN-REALTORS®.jpg
Casey Kunkel
2018-04-17 20:18:31
2018-04-17 20:18:31
Living Large: 6 Decor Ideas to Take Your Tiny Balcony to New Heights